Common Ground Eco Home - Lopez Community Land Trust
Sustainable Building, Sustainable Community
Common Ground, completed in 2009, is a sustainable net zero energy project and received its award in part due to Lopez Community Land Trust's publication of the manual; Land, Water, Energy, Resource Use: A System's Approach. It features include straw bale construction with earthen plaster, rainwater catchment, solar hot water and a grid-tied solar electric system. This is a mixed-income development of 11 homes and 2 rental units along with an office/resource center.
Solar Evacuated Tube Array
Common Ground Homes make use of Solar water heaters arrays. The sun hits collectors on the roof, heating a non toxic antifreeze mix and triggering a pump to activate. The pump moves solar-heated mix from roof down into heat exchanger located in a storage tank in the utility room, indirectly heating the water supply. This circuit continues as long as there is heat to be harvested on the rooftop. This system can be utilized 8-9 months of out the year saving up to 80% of Water heating costs.
Earthen Plaster / Straw Bale
The Common Ground Home is built primarily with Straw bale's that act as the primary building structure, as well as the home's insulation. Once framed and insulated, the house is covered with an all natural Earthen Plaster. This Plaster further insulates the home as well as functions as a weather and water barrier. There are many different colors of Earthen Plaster than are used throughout the Lopez Community Land Trust to give each home it's own personalized look and feel.
Passive Air Ventilation / Ductless Heat Pump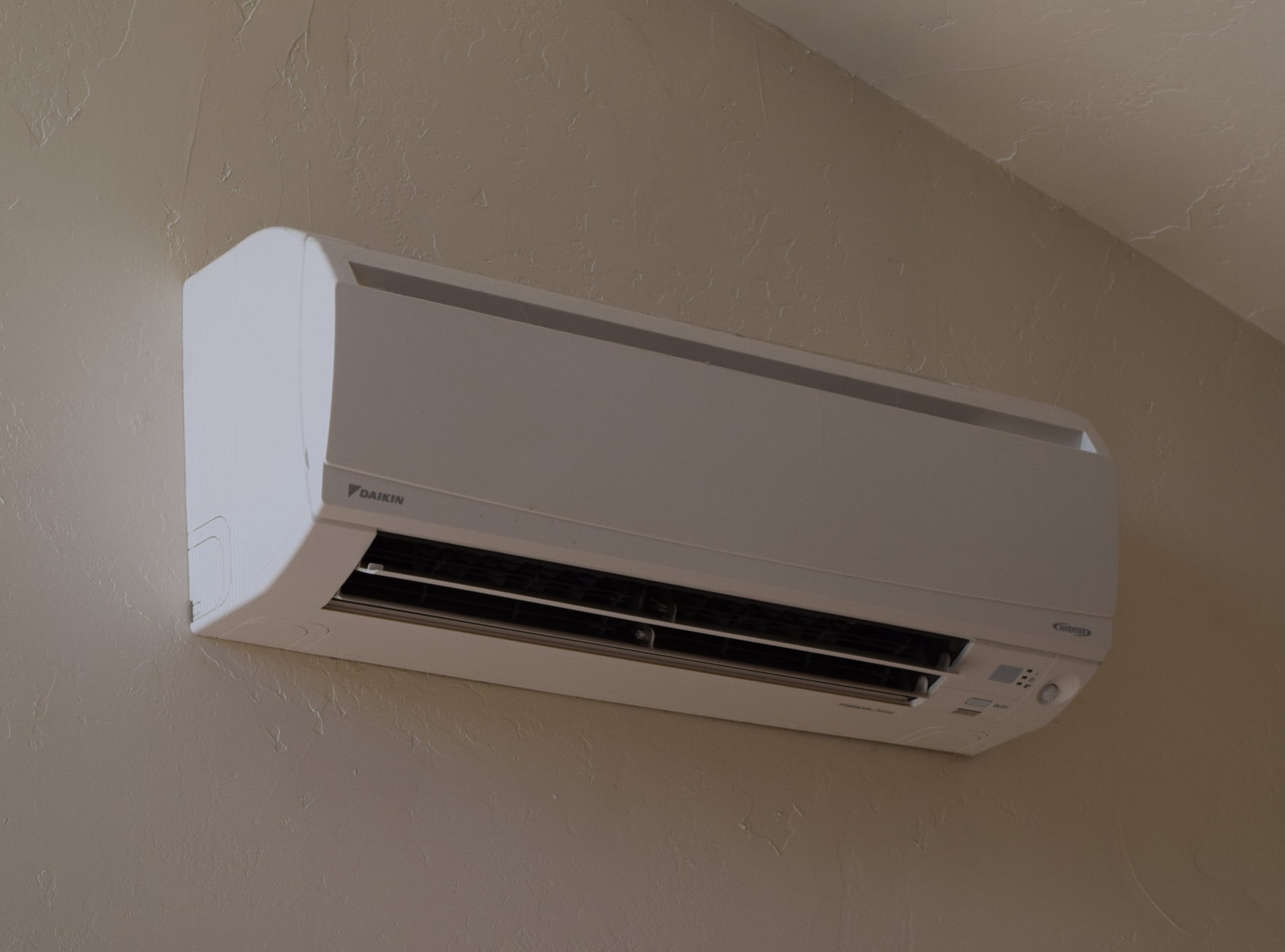 When it's cold outside a heat pump extracts this outside heat and transfers it inside. When it's warm outside, it reverses directions and acts like an air conditioner, removing heat from your home. One advantage of a heat pump is that it moves heat instead of generating heat, giving you more energy efficiency. These systems much like the Common Ground Eco Home, can be fit to function in multiple rooms, improving comfort as well as air circulation. Since the Home offer passive Solar heating during the sunnier months, as well as high opening windows, the ductless system here is more of a back up than primary heating/cooling source. Also, the Common Ground Eco Home is fitted with a passive Air Ventilation device with a pull chord. These devices allow fresh air to enter the home, without a heat loss as dramatic as opening a window, for when you want to keep in heat but as well as fresh air.
360 "Virtual" Tour Video
Click Play Below and scroll in 360 degrees with your mouse
About Lopez Community Land Trust
The Lopez Community Land Trust is a 501(c)3 non-profit, building a diverse, sustainable Lopez Island community through affordable housing, sustainable agriculture, and other dynamic rural development programs.
To acquire and hold land in trust in order to provide for permanently affordable housing. Homes shall be built and lands shall be used in an environmentally sensitive and socially responsible manner.
To provide permanently affordable access to land for such purposes as quality housing, sustainable agriculture and forestry, cottage industries and co-operatives by forever removing the land from the speculative market.
To develop and exercise responsible and ecological practices, which preserve, protect and enhance the land's natural attributes.
To serve as a model in land stewardship and community development by providing information, resources and expertise.
For More Information please click here